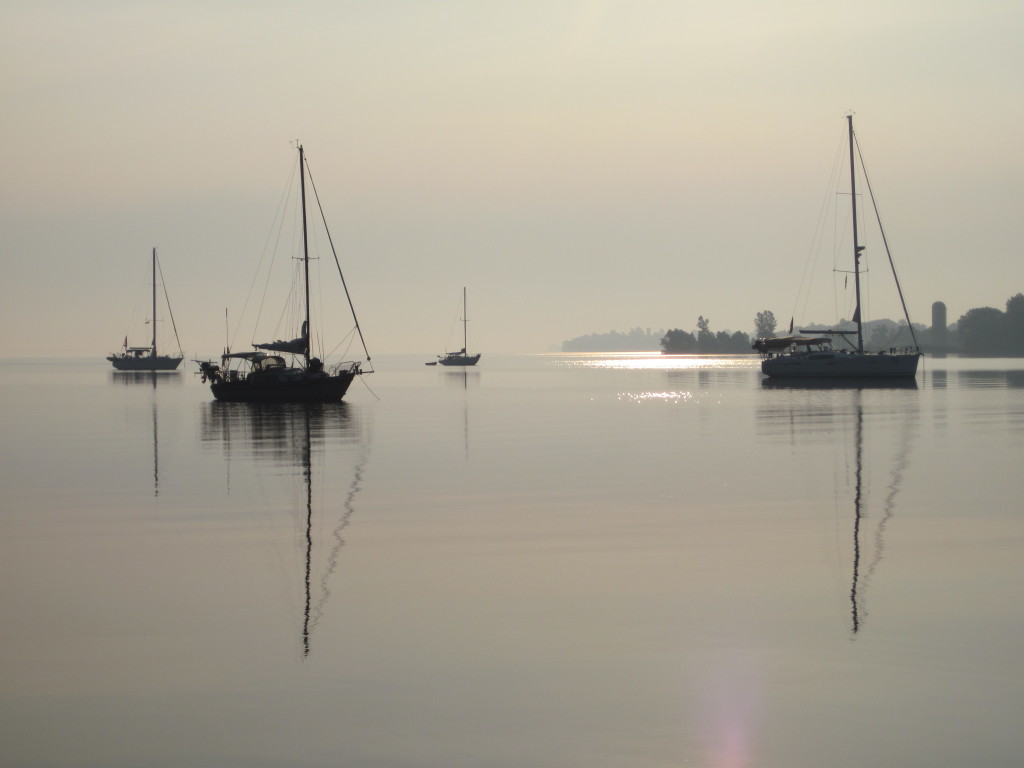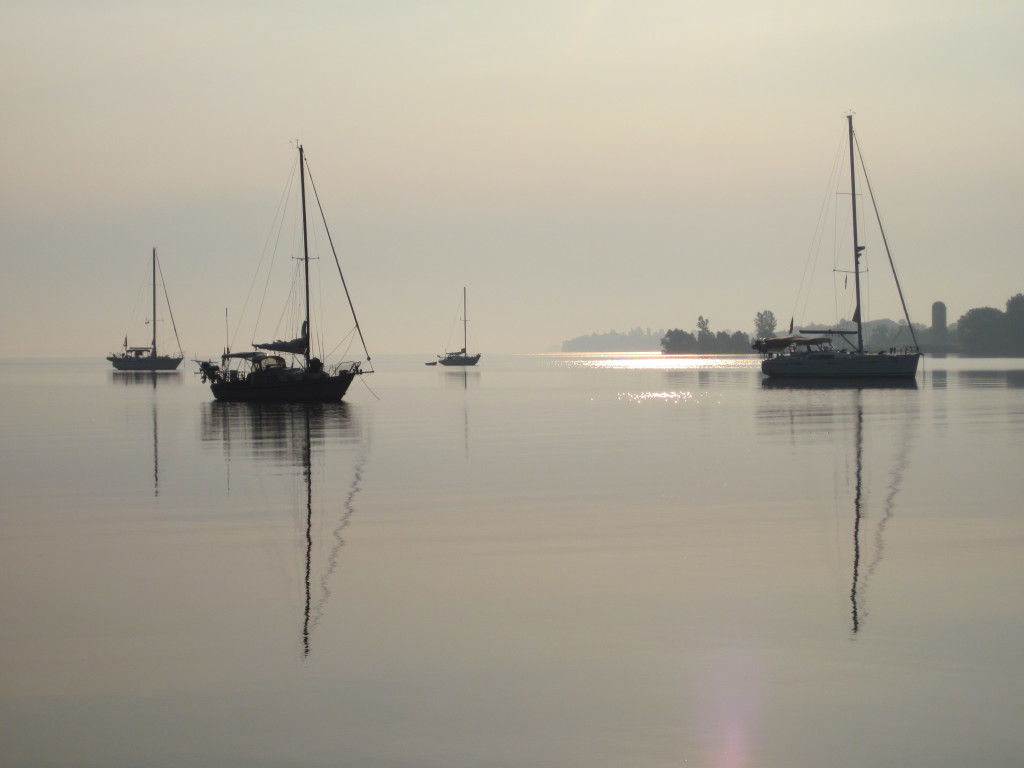 THESE ARE EXAMPLES OF AGENDAS THEY MAY CHANGE ACCORDING TO DECISIONS OF THE CREW OR WEATHER. E.T.C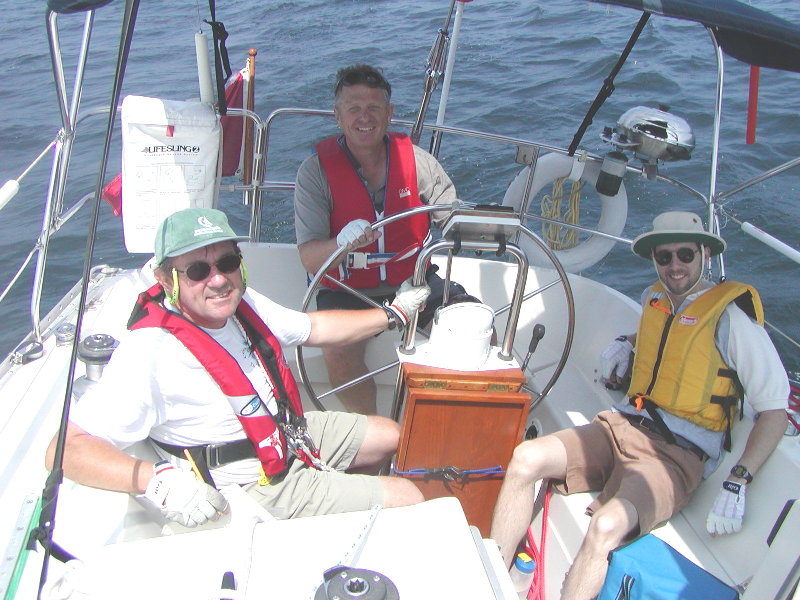 Sunday Evening (optionally)
Introductions & welcome

Load gear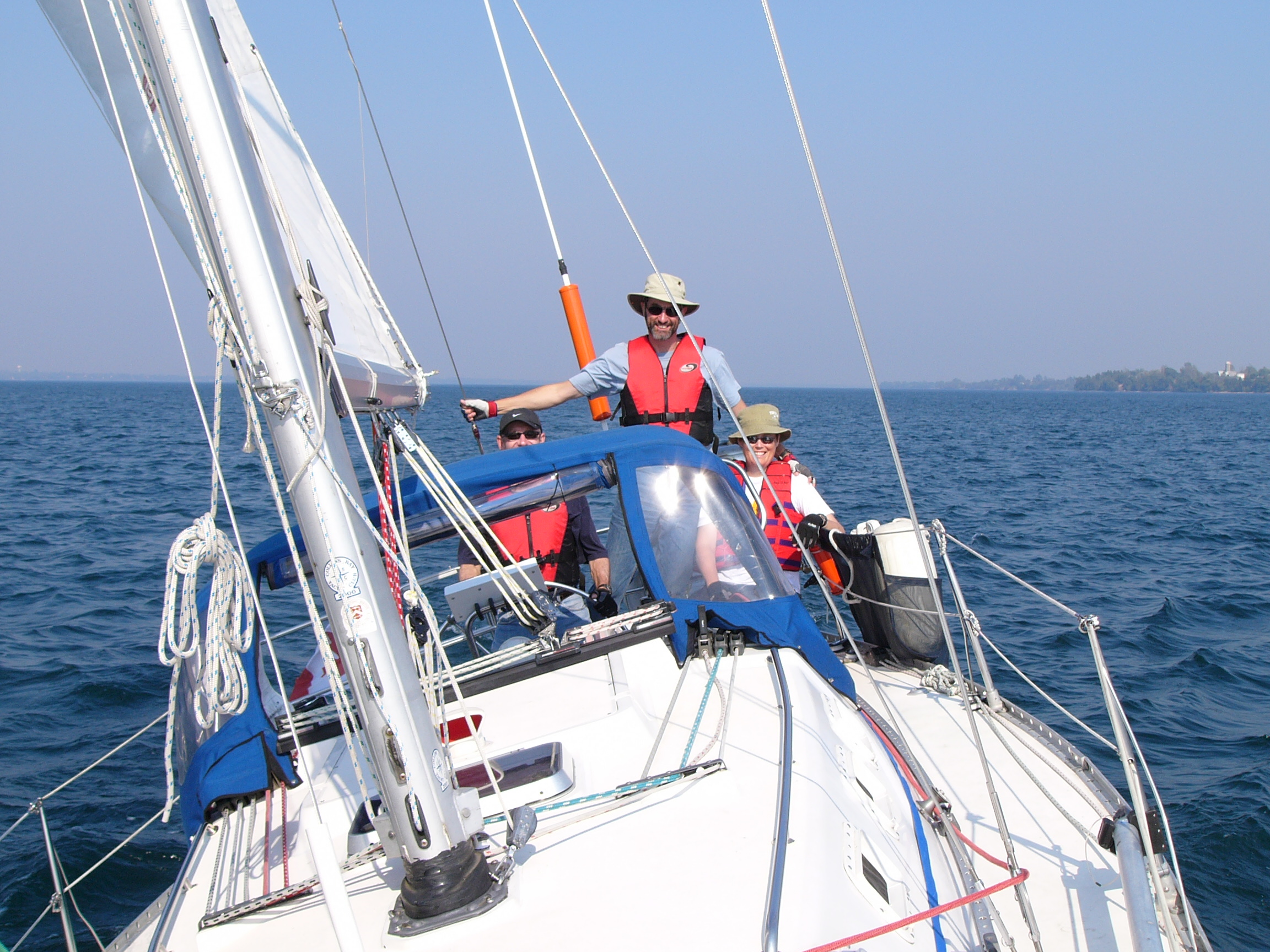 Monday
Breakfast
Introduction to the boat systems
Safety equipment
Practice leaving the dock
Practice maneuvering under power
Proper procedure for raising sail

Set sail for Prince Edward Bay

 Theory session (while sailing)

Terminology

Parts of the boat

Directions

Points of sail

Discuss sail theory – what makes a boat sail

Discuss buoyage system

Rules of the road

Getting underway

 
Afloat session
Proper procedure for raising sails through the day
Practice sailing to all points of sail
Practice tacking and gybing
Identify buoys en route by reference to the chart
Lunch
Theory session (under sail)
Discuss weather
Discuss Chart & Navigation
Review Anchoring
Discuss hypothermia
Safety
Anchor in Van Dusen's Bay
Review the day's activities -feedback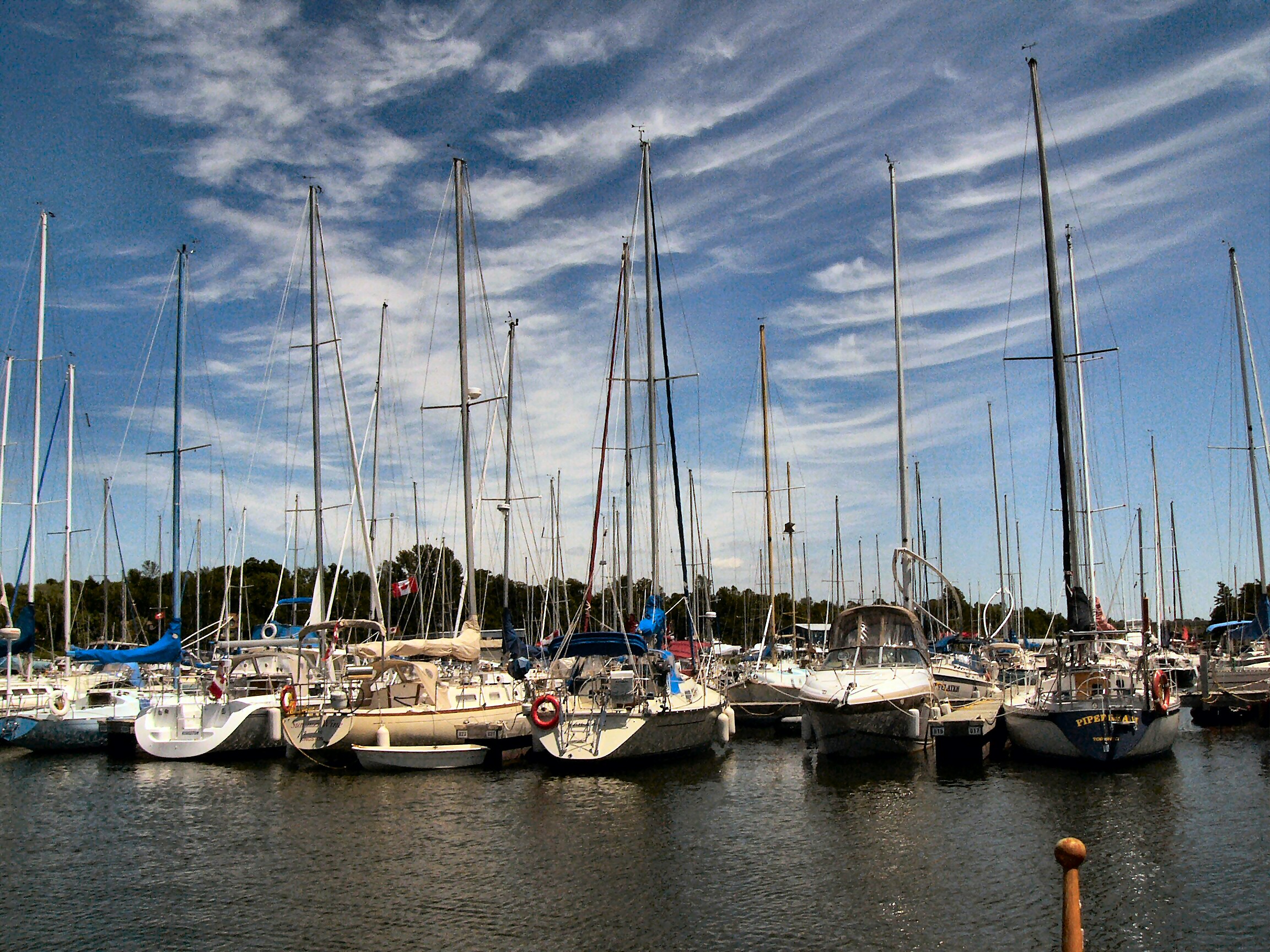 Tuesday
Breakfast
Sail in Prince Edward Bay
Weather check
Practice points of sail
Practice tacks and gybes
Lunch
Heaving to
Reefing
Supper
Theory session
Emergencies
Tide and current tables
Review parts of boat
Safe Fuelling
Review the day's activities -feedback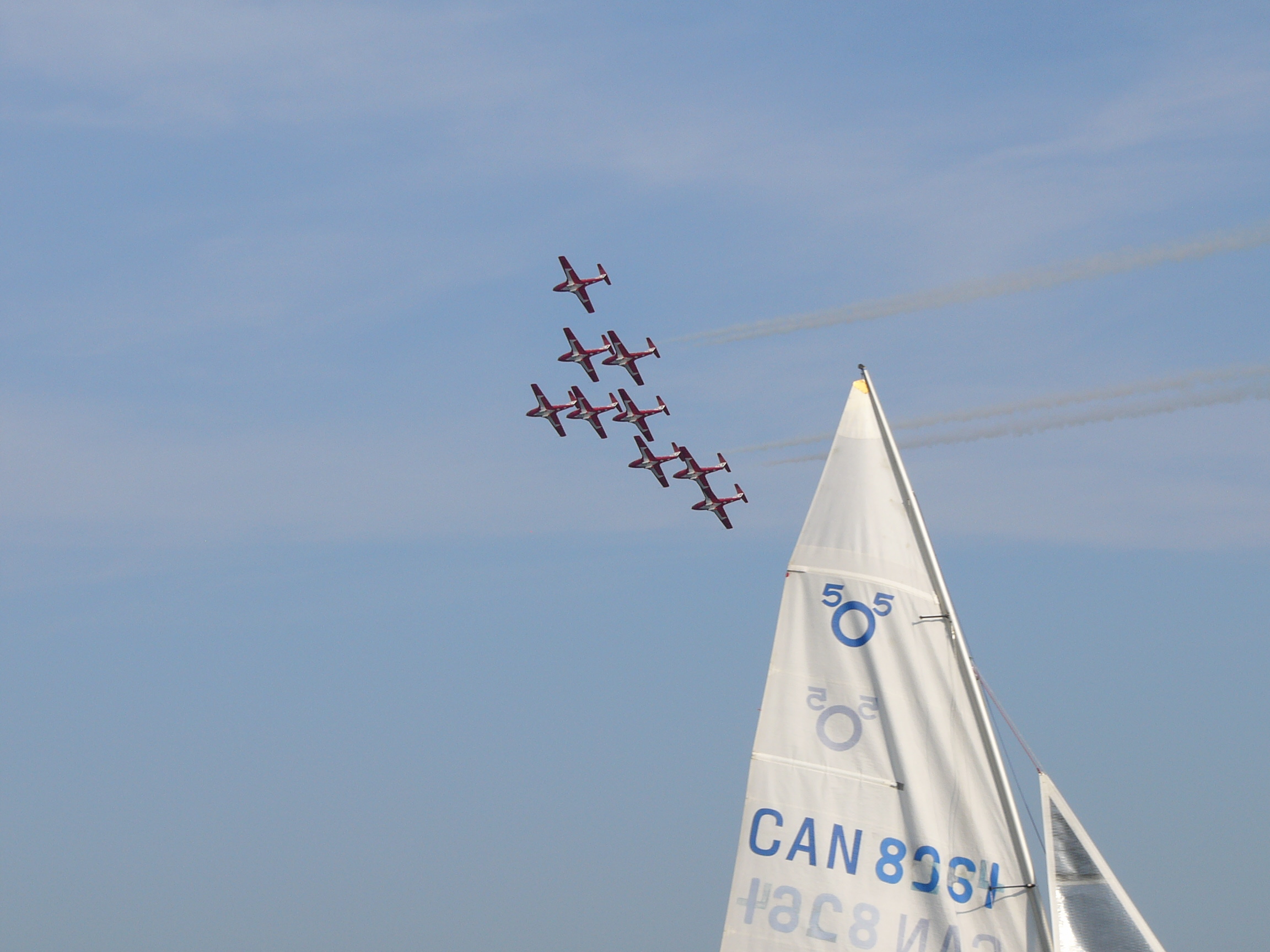 Wednesday
Breakfast
Discuss crew overboard procedures
Hoist anchor sail in Prince Edward Bay
Practice crew overboard manoeuvre
Lunch
Dock at Waupoos Marina
Practice Docking
Have holding tank pumped
Top up water, fuel
Theory session
Navigation
VHF radio
Review the day's activities -feedback
Supper at Winery or Pub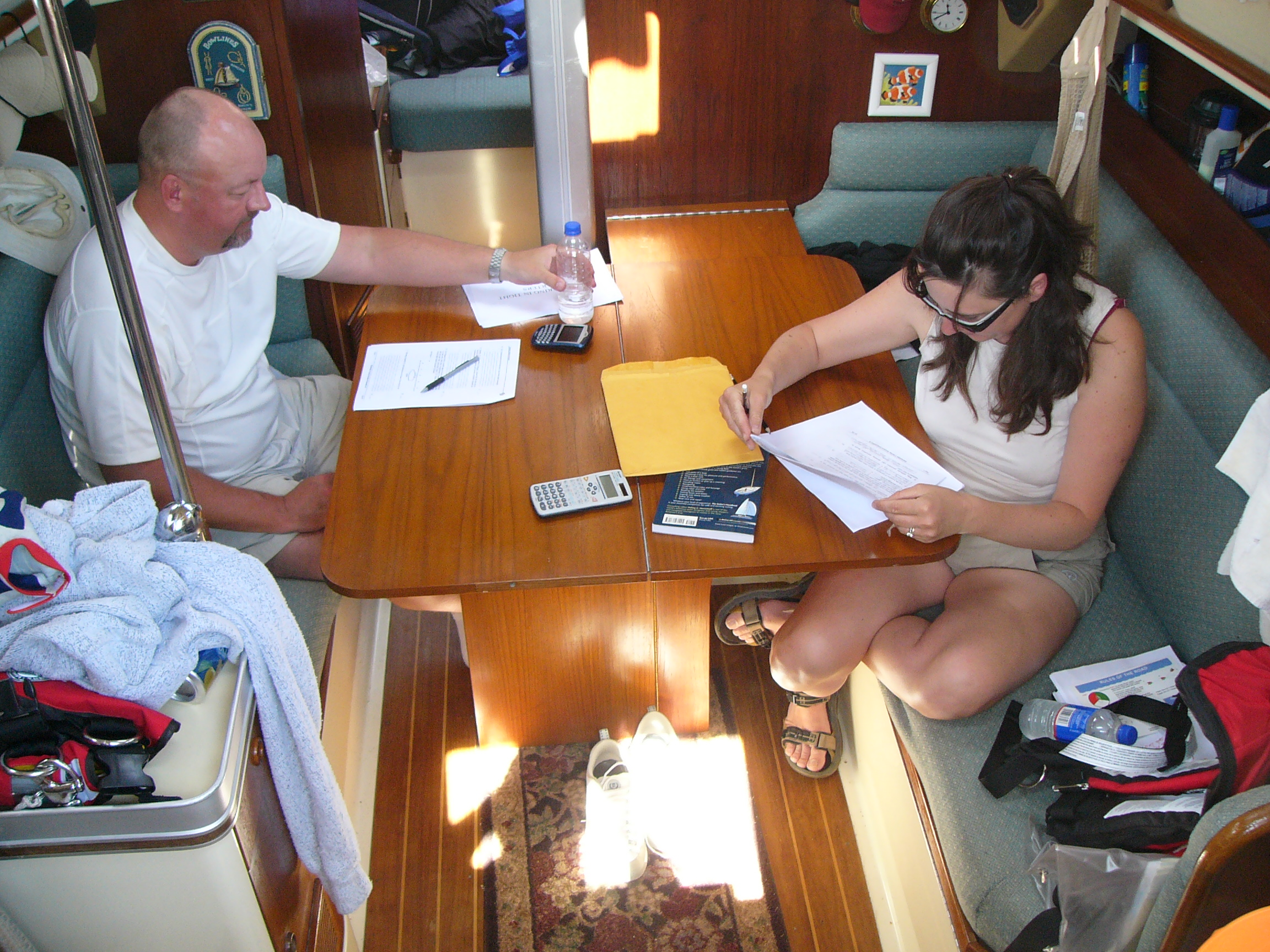 Thursday
Breakfast
Set sail for Prinyer Cove
Practice points of sail
Practice navigation
Lunch Anchor in Prinyer Cove
Review Ashore Skills
Supper
Ashore Skills exam & PCOC test
Review exam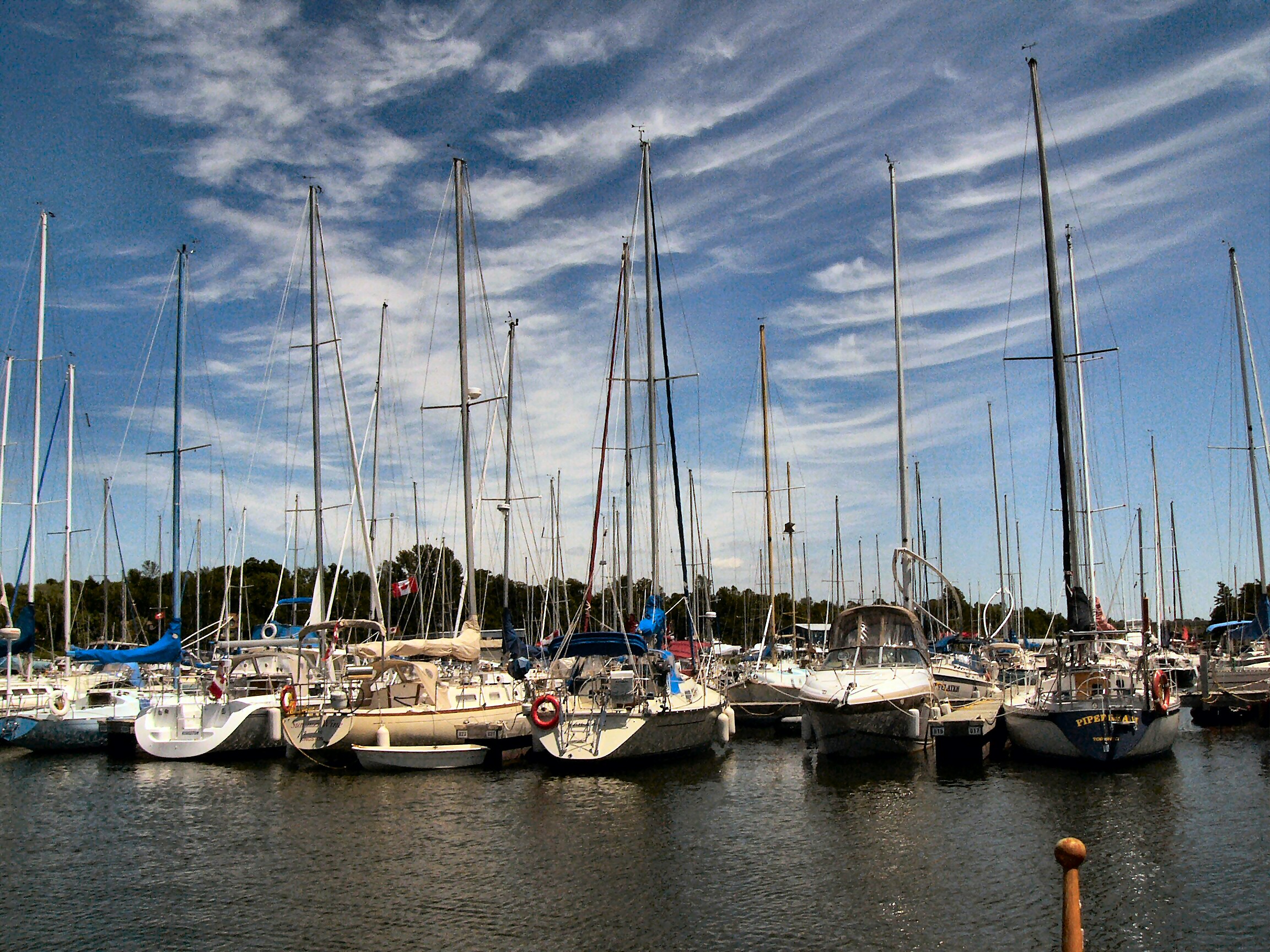 Friday
Breakfast
Set sail for Collins Bay
Practice points of sail
Practice crew overboard manoeuvre
Lunch
Pump out holding tank
Top up fuel, water
Return to Dock
Final wrap-up
Clean boat
Individual review
Wrap Up
TYPICAL INTERMEDIATE AGENDA
Sunday Evening (optional)
Introductions and welcome
Load gear & food on Boat
Monday
Passage eg.Main Duck (23nm) Waupoos
Breakfast
Boat checks:

Use of a  checklist
Required safety equipment as in safe boating guide. First aid kit, tools & Spares. Check out that all systems on boat are in working order; stove, electrical, plumbing electronics, sails, hull, deck hardware etc.
Discuss routine daily and weekly maintenance procedures on engine; perform weekly check
Demonstrate basic use of the VHF marine radio, including Safety, Distress and Urgency calling procedures
Weather check

Review navigation

Lay off a course and determine compass heading and Estimated Time of Arrival (ETA) (assuming no current or leeway)
Pre-depart checklist
Daily engine check Marine forecast
Weigh anchor
Raise sails & practice points of sail & sail trim
Sail a compass course with sails set properly, with no land references for a minimum of five minutes
Plot and determine position using deduced reckoning (DR) methodology.
Lunch underway (hove to)
At anchorage
Demonstrate how to take soundings using electronic and manual methods and
Practice throwing a heaving line to a target
Tie a rolling hitch
Review exam papers
Review day's activities -feedback
Tuesday
eg. Main Duck –Waupoos  (anchorage)

 

(or Waupoos – Prinyers Cove)
Breakfast
Pre-depart checklist
Daily engine check
Obtain and interpret the Marine forecast
Lay off a course and determine compass heading and Estimated Time of Arrival (ETA) at destination. Take a fix using visual bearings
Sailing practice tacking and gybing complete tacking and gybing excercises
Demonstrate (using a float)  the Triangle method and one alternative method (i.e. quick stop, fast return, life sling, etc.) of returning to a crew overboard in daytime in moderate winds safely and efficiently within three minutes using appropriate communications, commands and a spotter
Evening 
Review day's activities -feedback
Wednesday
eg. Waupoos-Picton
Pre-depart checklist
Daily engine check
Weather forcast
Navigation excercises
Pack, set, hoist, fly, gibe and douse a cruising spinnaker weather permitting
Demonstrate whisker pole and use of a preventer
Review and practice all afloat skills with revision as required.
Pilot a vessel into unfamiliar harbour or anchorage by day using charts and publications
Practice Crew overboard.
Dock with stern or bow to dock or shore using a bow or stern anchor;
Demonstrate the use of a spring line to spring a vessel off of and on to a dock; (9)
Discuss docking and securing the boat to the dock
Discuss sailing etiquette and legal requirements
Discuss  the characteristics, limitations and uses of various rope materials and construction
 Discuss preparing the boat to be left at the dock.
Review day's activities -feedback
Supper Ashore
Thursday
eg. Picton- Kerr Bay
Pump out at Picton and fill water tanks
Pre-depart checklist
Daily engine check
Review and practice all afloat skills with revision as required.
Pick up a mooring
Eys splice in Laid line
Review day's activities -feedback
Friday
eg. Kerr

 

Bay – Collins Bay
Pre-depart checklist
Daily engine check
Review and practice all afloat skills with revision as required.
At Collins Bay
Pump out holding tank
Top up fuel, water
Return to Dock
Clean boat
Individual feedback
Farewell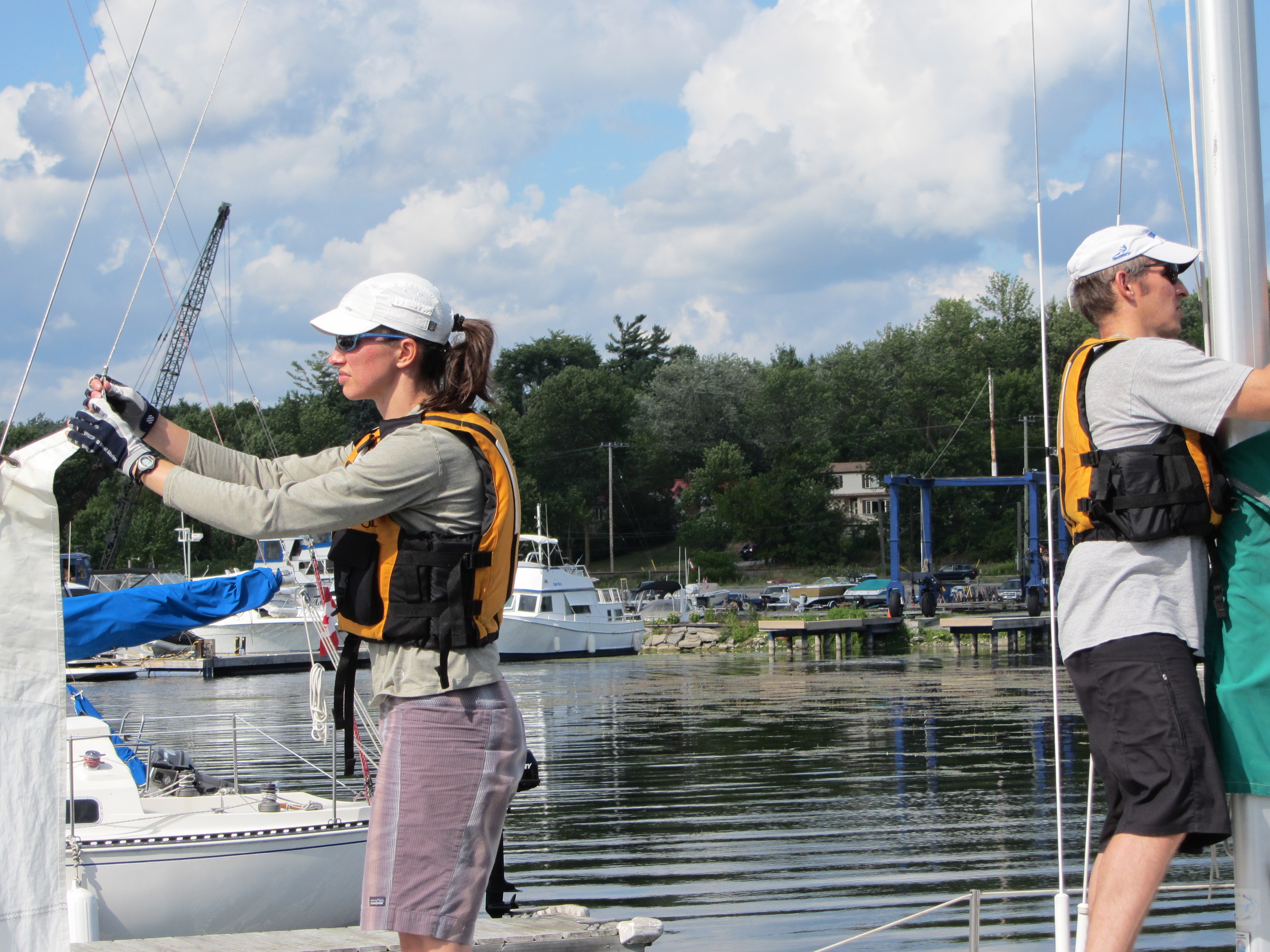 Day 1
Introductions & welcome icebreaker 09:00 

Discuss sail theory – what makes a boat sail
Points of sail

 

West 18-24
Duties of Skipper & Crew

 

West 25
Safety Briefing
Review Rules of the road

 

West p60 Safe Boating guide

Dockside Introduction to the boat –

Safety equipment

 

Safe boating Guide, West p 30-
Engine

 

West p77
Sailplans

 

West Safe boating Guide West p 26
Getting underway

 

West p84

Afloat session Rest of Day

Practice leaving the dock (As crew)
Raising sails

 

West p123-
Practice sailing to all points of sail
Tacking
Gybing
Return
Docking (As crew)

 

West p91

Review the day's activities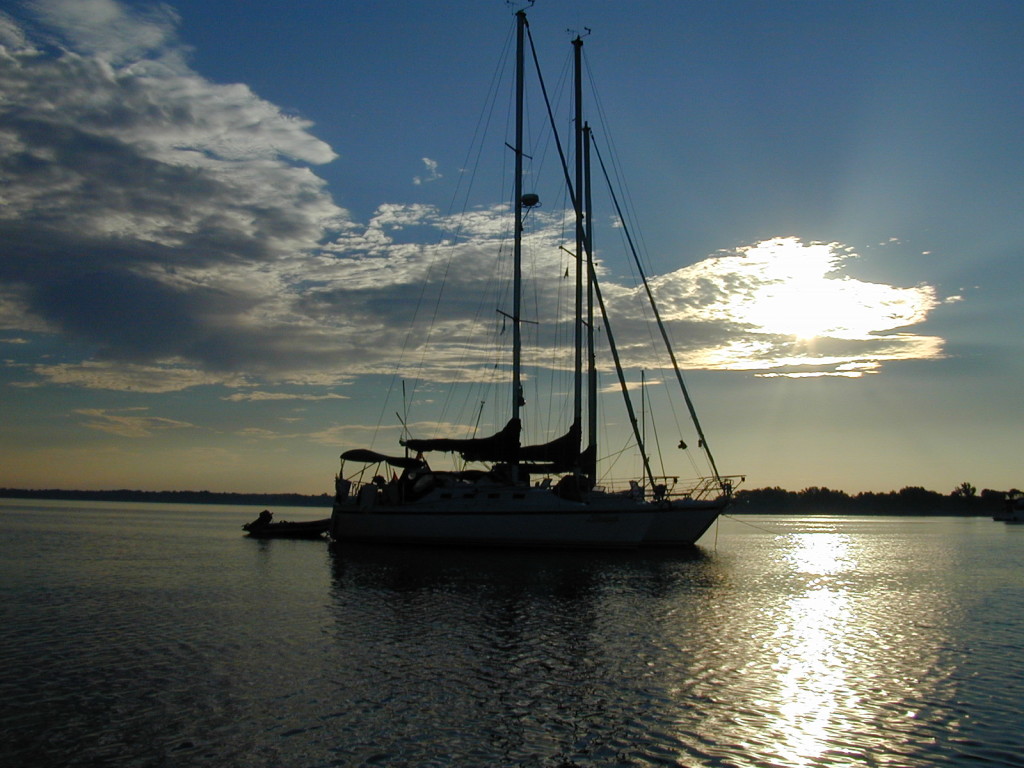 Day 2
Afloat session 09:00

Practice manoeuvering under power discuss prop walk
Practice points of sail
Practice tacks and gybes
Identify buoys en route by reference to the chart
Heaving to

 

West 147
Reefing Mainsail

 

West 149-
Docking

Review the day's activities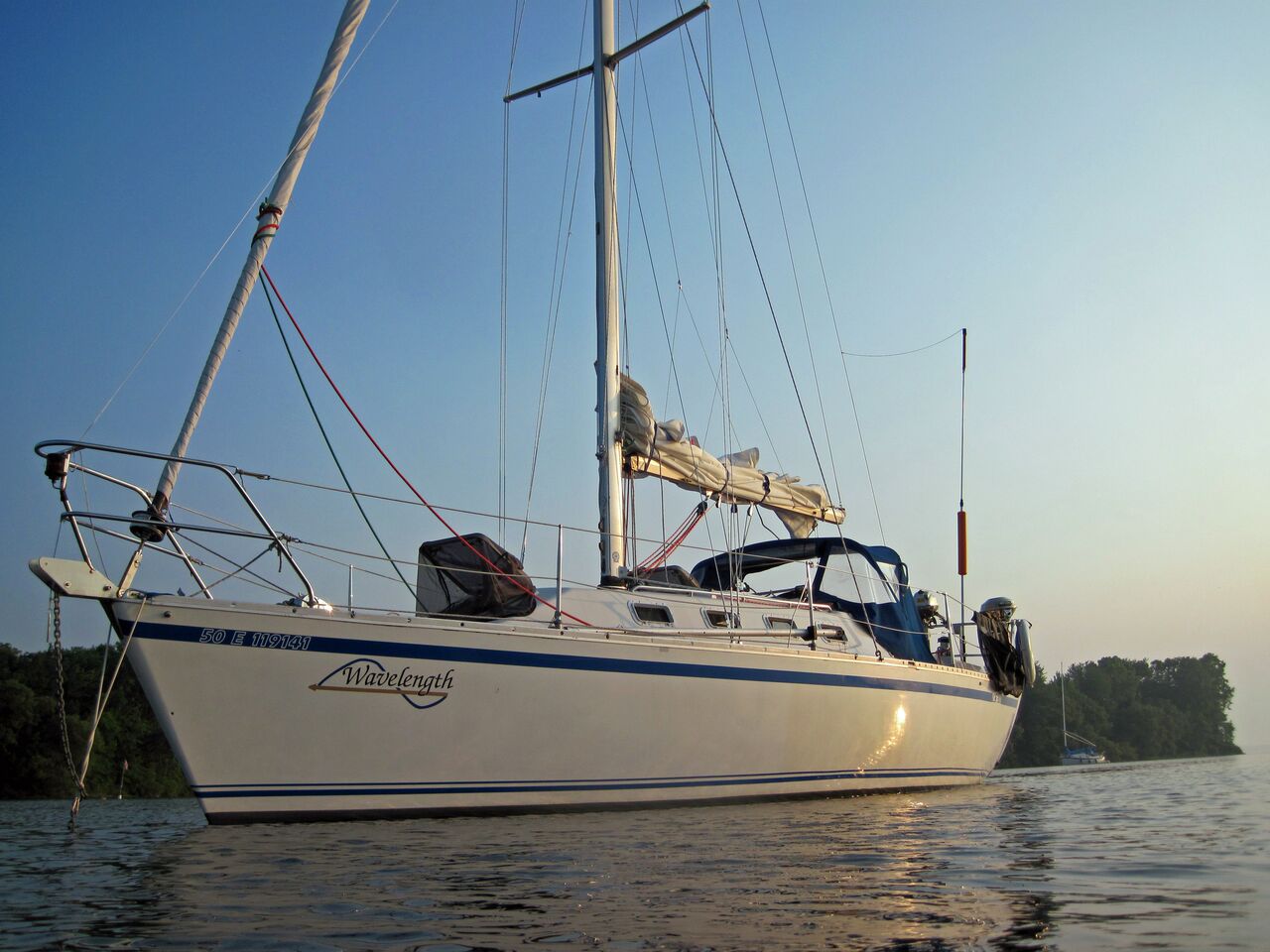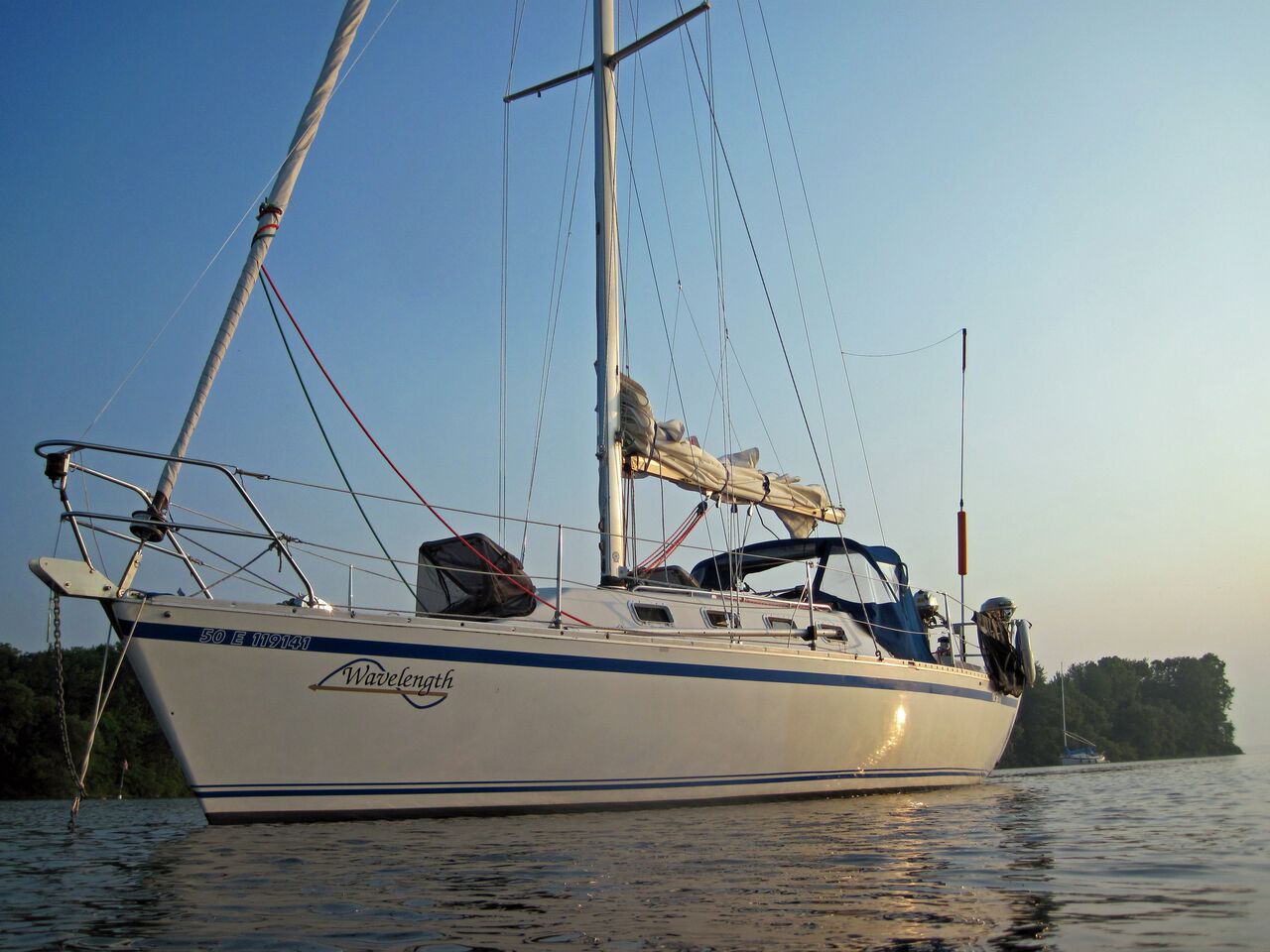 Day 3
Anchors & Anchoring West p185
Discuss crew overboard procedures

 

West p178-
Practice points of sail
Practice crew overboard
Practice Anchoring

Review the day's events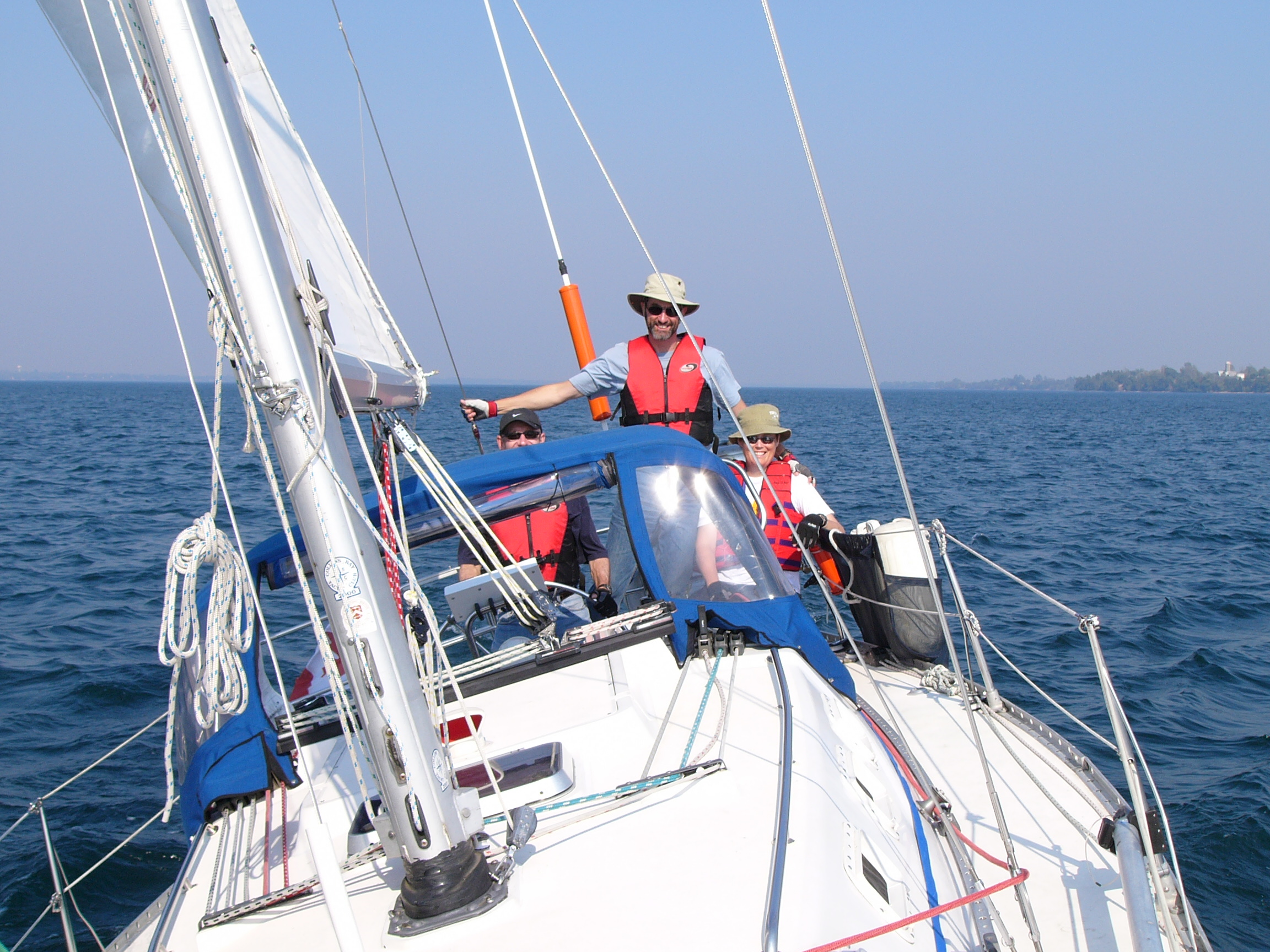 Day 4
09:00 Afloat session
Practice points of sail
Practice crew overboard
Practice navigation
Option review theory
Pump out holding tank
Top up fuel, water
Return to mooring
Clean boat
Exam 
Wrap up and individual review
References are to the text book "Basic Cruising Skills" by Gillian West
This is an example of an agenda the actual agenda may be different depending on where the crew wants to visit, weather, etc.
You may download copies of our Course Brochures here. Those links will allow you to download a PDF version of our brochures straight to your desktop.

Sailing Tips
Any of the Basic or Intermediate/ICC courses can be taken as a private course or on your boat. We can combine levels if feasible.
What you need to know
All the information in the Sail Canada written exam is covered in the on-line Basic Ashore Knowledge module  but we also recommend that you buy the Sail Canada textbook Basic Cruising skills.  Ideally The exam is conducted one evening during the course and exam fees and marking are included in the course fee. On successful completion of the course you will be provided with a Sail Canada international Cruising log book and registered with the Ontario Sailing Association/Sail Canada to recieve a student number and seal for the logbook. (also included in the fees) If needed the Pleasure Craft Operators Card is included free.
COVID
Our  5 day live aboard courses for  fully vaccinated students*
We can offer a private course up to 4 students with the fee adjusted accordingly on one of the open scheduled course dates  Contact us to book
* Subject to Provincial and Local requirements and Sail Canada.
our instructors are fully vaccinated
If we have to cancel courses you can rebook at a later date or obtain a refund
5 Day live aboard courses are $1500 for individuals occupying their own  berth and $2800 for a couple sharing a Berth. 
All prices +13% HST
For more details or to Book contact
More information about your course will be provided in a pre-course package
| Course ID |  Course Dates in 2023 | Remaining Places | Course Status |
| --- | --- | --- | --- |
| SC1 | May 15-19 | 4 | Open |
| SC2 | June5-9 | 4 | Open |
| SC3 | June 19-23 | 4 | Open |
| SC4 | July 3-7 | 4 | Open |
| SC5 | July 17-21 | 4 | Open |
| SC6 | July 24-28 | 4 | Open |
| SC7 | Aug 7-12 | 4 | Open |
| SC8 | Aug 21-25 | 4 | Open |
| SC9 | Aug 28-Sept 1 | 4 | Open |
| Courses in Sept and October | Inquire | | |