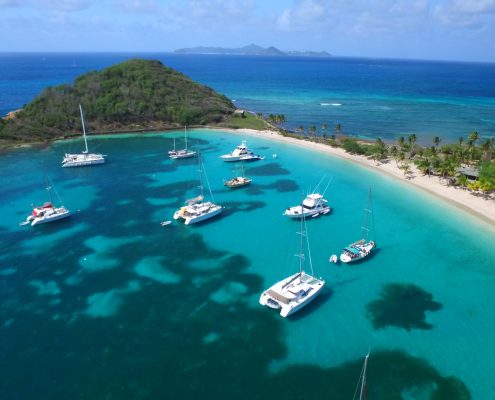 The Advanced course is intended for experienced sailors who want to practice extended cruising involving continuous sailing by day and night in potentially heavy weather conditions. The standard reads "To be able to act safely as skipper and crew of a sailing cruiser of 8 – 15 metres, operating by day and night in coastal or inland water in any weather."
Essential prerequisites are Intermediate Cruising and Coastal Navigation Standards, Red Cross or St. John Ambulance Emergency First Aid Certificate and a VHF radio certificate (Radio Operator's Restricted Certificate – Maritime Voluntary). Members of the Power Squadron with Advanced Piloting in lieu of the CYA qualifications also qualify.
This standard is also in two parts, an afloat section where practical skills are improved and tested and a theory portion that is tested in a 2 hour written closed book exam at the end of the course. In the afloat section which will be on a 40'+ sloop there will be continuous sailing lasting at least two days, sailing on watches and maintaining a deck log and DR plot. Day and night crew overboard manoeuvres and anchoring and docking under sail will be practiced. The course fee includes ACESS TO THE ADVANCED ASHORE MODULE AT LEARNTOCRUISEONLINE.CA and reference materials.
On successful completion the student will be provided with a seal for their CYA logbook.
Course Format
The Advanced course involves a continuous sail of a minimum of 48 hours and is usually 7 days

Sailing Tips
Any of the Basic or Intermediate/ICC courses can be taken as a private course or on your boat. We can combine levels if feasible.
What you need to know
All the information in the Sail Canada written exam is covered in the on-line Basic Ashore Knowledge module  but we also recommend that you buy the Sail Canada textbook Basic Cruising skills.  Ideally The exam is conducted one evening during the course and exam fees and marking are included in the course fee. On successful completion of the course you will be provided with a Sail Canada international Cruising log book and registered with the Ontario Sailing Association/Sail Canada to recieve a student number and seal for the logbook. (also included in the fees) If needed the Pleasure Craft Operators Card is included free.
COVID
Our  5 day live aboard courses for  fully vaccinated students*
We can offer a private course up to 4 students with the fee adjusted accordingly on one of the open scheduled course dates  Contact us to book
* Subject to Provincial and Local requirements and Sail Canada.
our instructors are fully vaccinated
If we have to cancel courses you can rebook at a later date or obtain a refund
5 Day live aboard courses are $1500 for individuals occupying their own  berth and $2800 for a couple sharing a Berth. 
All prices +13% HST
For more details or to Book contact
More information about your course will be provided in a pre-course package
| Course ID |  Course Dates in 2023 | Remaining Places | Course Status |
| --- | --- | --- | --- |
| SC1 | May 15-19 | 4 | Open |
| SC2 | June5-9 | 4 | Open |
| SC3 | June 19-23 | 4 | Open |
| SC4 | July 3-7 | 4 | Open |
| SC5 | July 17-21 | 4 | Open |
| SC6 | July 24-28 | 4 | Open |
| SC7 | Aug 7-12 | 4 | Open |
| SC8 | Aug 21-25 | 4 | Open |
| SC9 | Aug 28-Sept 1 | 4 | Open |
| Courses in Sept and October | Inquire | | |